The company "d'Ailleurs"
« The Alchemists »

Walkabout, poetic street theatre performance-voyage, featuring three actors on stilts with a handcart
This stilt-walking show can be performed in a fixed space or as a walkabout, inside or outside.
Our work combines various types of performance: street theatre, physical theatre, movement, masks and puppets.
Our other shows, featuring street theatre, stilt-walkers, improvised performance, young people's theatre, pyrotechnic parades
and Christmas shows, are still touring…
The photos of the Alchemists were taken at different times during touring in the streets, lanes, alleyways, gardens and woods of
France, Germany, Belgium, Spain, Greece, Holland, Luxembourg, Portugal, Switzerland and Uruguay.
The video was filmed by Lightfoot productions in Morlaix, Lesneven and la Pointe Saint Mathieu.
The show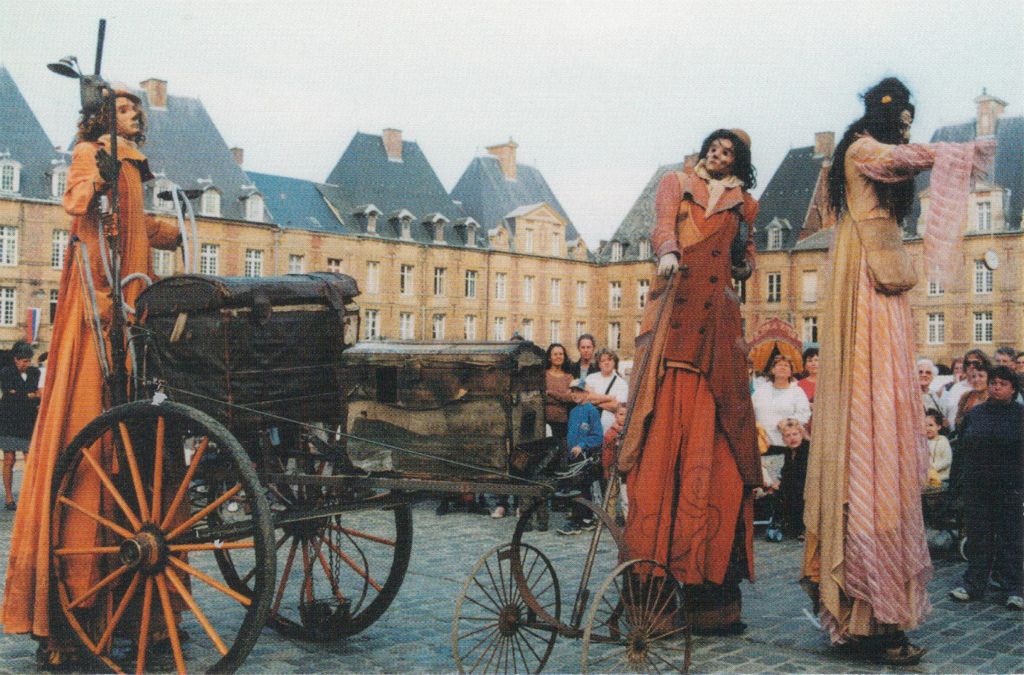 - Performance-voyage -
performed by three actors on stilts, with a cart.
Three apprentice researchers
Pulling their handcart in search of
"their" philosopher's stone.
They've been sent by the
High Brotherhood of the Alchemists from Somewhere Else
To search out, dig around and gather up,
To discover, analyse, and
Transform any traces of memory from this place.