The company "d'Ailleurs"




« The Elves and the Magic Book »



A musical and poetic walkabout show for Christmas, performed by two elves on tricycles.
Its length is flexible depending on the space and the artistic and technical requirements.
Our work combines various types of performance: street theatre, physical theatre, movement, masks and puppets.
Our other shows, featuring street theatre, stilt-walkers, improvised performance, young people's theatre,
pyrotechnic parades and Christmas shows, are still touring…
The photos of the elves were taken between December 2011 and December 2014 at: Etampes, Rouen and Rosny/Seine (France).
The video extract of the show was filmed by Ana Inés Cutinella during the Christmas festivities in Rouen in December 2012.
The show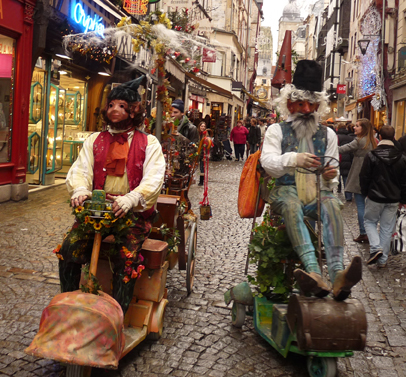 Since time immemorial, every month of December,
the elves Sandro and Minique set off on an epic voyage.
astride their tricycles
full of presents, paint brushes and paints,
these elfin alchemists who live in the enchanted woods,
set off to meet the world's children
Their mission?
To write messages for Father Christmas
In the Big Magic Book.
They leave behind them
Sparks of colour and chocolate-flavoured hugs
And they take back with them
The secret wishes of each child.