The company " d'Ailleurs "
«Heads or Tail»



A walkabout street theatre show in two parts



This stilt-walking show can be performed in a fixed space or as a walkabout, inside or outside.
Our work combines various types of performance: street theatre, physical theatre, movement, masks and puppets.
Our other shows, featuring street theatre, stilt-walkers, improvised performance, young people's theatre, pyrotechnic parades
and Christmas shows, are still touring…
The photos of the Alchemists were taken at different times during touring in the streets, lanes, alleyways, gardens and woods of
France, Germany, Belgium, Spain, Greece, Holland, Luxembourg, Portugal, Switzerland and Uruguay.
The video was filmed by Ana Cutinella
The show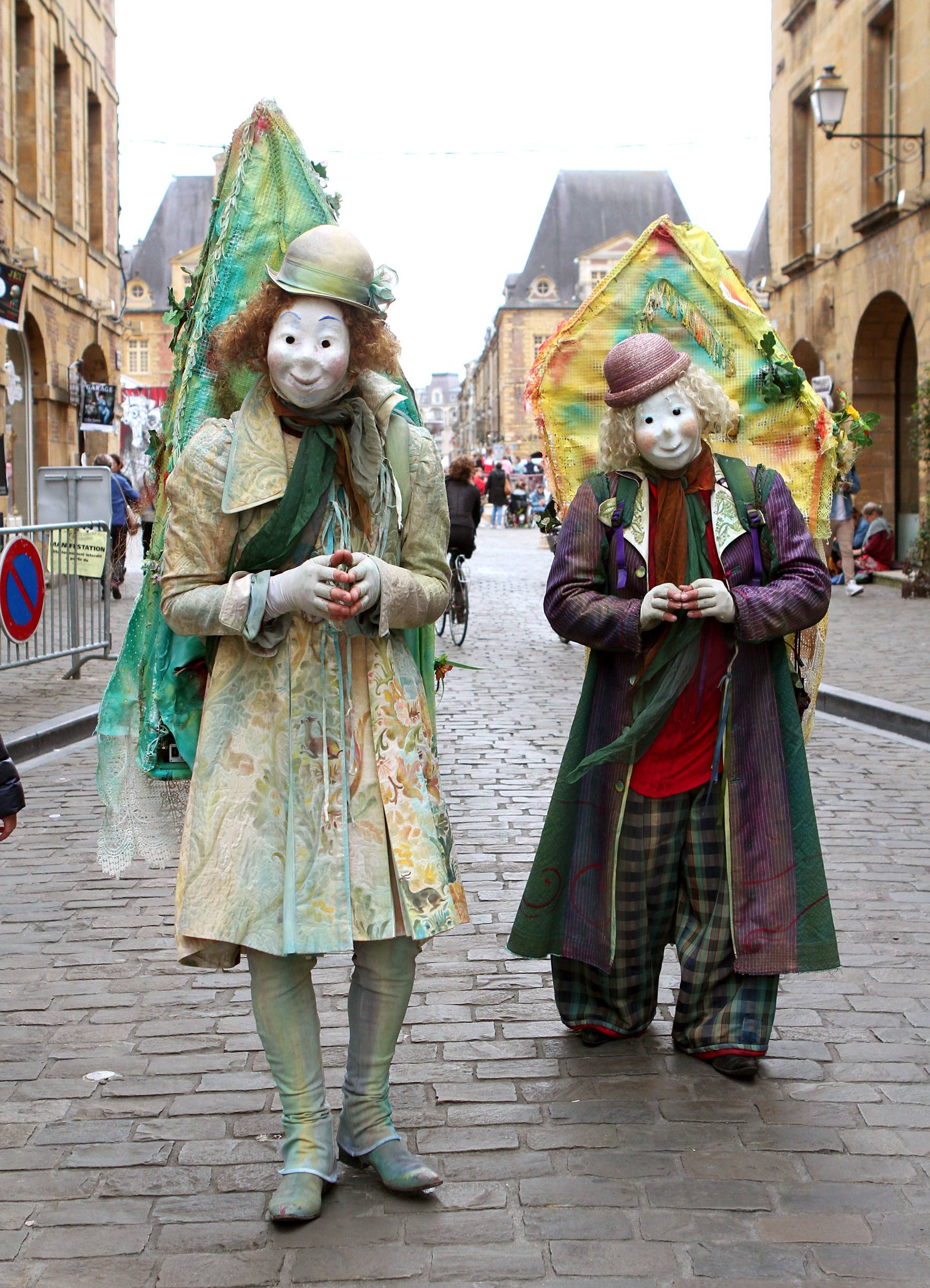 Heads
The walkabout section
Two Angels, Solfeo and Solindo, who don't know how to fly.
Instead of wings they have strange castelets (puppet theatres) on their backs, that look like dolls' houses.
They move around, walking and dancing, to the sound of music.
Their movements are poetic and sometimes they have direct contact with passers-by.
Each meeting transforms the present moment into something magic and unforgettable.
Tails
The fixed section

We change scale, language and space. We stop walking.
The human-sized angels give way to puppets that speak.
The strange castelets transform into windows,facing the past, and facing the future.
The curtain comes up. The music fades out, and words take over.
Mario and Giusepo appear, two old friends who are more than 110 years old.
They take us to an imaginary country, a country of dreams.
From their balcony they tell us strange stories of things that happened long ago.
Dreams or memories? We'll never know.
These two sections are flexible in length and can be performed together several times in the same day according to organisational needs.
However, we don't perform more than two hours in total, divided into two parts of one hour maximum.