The company "d'Ailleurs"


"A Man and a Woman"


-not like anybody else -



Walkabout, poetic, funny street theatre show performed by two actors on stilts with a musical shopping trolley.
This walkabout street theatre show can be performed indoors or out.
Our work combines various types of performance: street theatre, physical theatre, movement, masks and puppets.
Our other shows, featuring street theatre, stilt-walkers, improvised performance, young people's theatre, pyrotechnic parades and Christmas shows, are still touring…
The photos were taken during the various performances of Lucienne and Robert in the streets, alleys, lanes, gardens and woods of: France, Germany, England, Belgium, Canada, Spain, Greece, Holland, Luxembourg, Poland, Portugal, Switzerland and Uruguay.
The show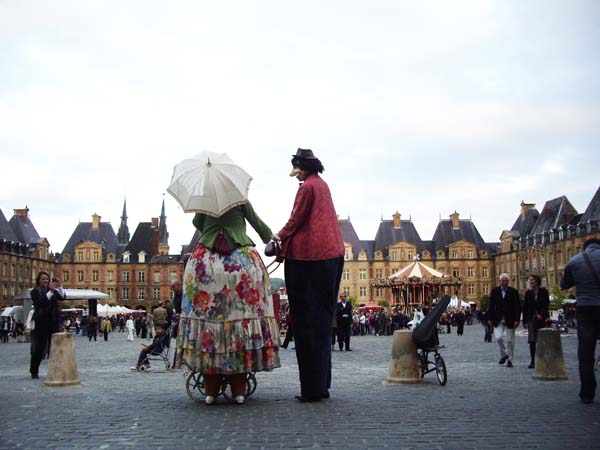 The story is simple.
There is no story.
Lucienne and Robert walk around
the town, in the pedestrianized streets,
In a wood, in a square.
They meet people who are not quite the same as them.
However, they try to be like
Everybody else.
They buy their newspaper, their bread,
Their vegetables, or they try to make a phone call
From a telephone box which unfortunately
Is too small.
Sometimes things are difficult between them.
So it is that anything can happen…